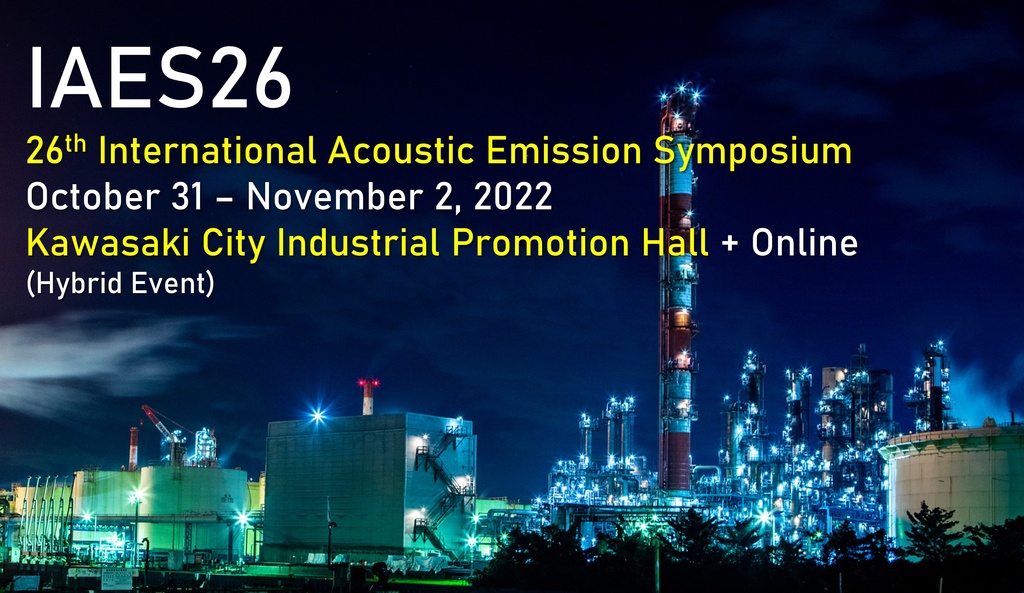 Photo by YAT, ぱくたそ (www.pakutaso.com)
Last update: October 31, 2022
Updates
Schedule
Registration (for everyone)

Program

Symposium main venue

---

Registration (Day 1)
October 31,
09:00 - 17:00
(Japan Standard Time, UTC+9)
Opening Address
09:30 - 09:40
Material I (Civil Engineering)
09:40 - 11:00
Lunch break
11:00 - 13:00
Keynote Lecture I


"History and future outlook of acoustic emission sensors"
Prof. Didem Ozevin (University of Illinois)

13:00 - 13:40
Materials II (Concrete)
14:00 - 15:20
Signal Processingand AE analysis
15:40 - 17:20

---

Registration (Day 2)
November 1,
09:00 - 16:30
Sensor and Measurement System
09:40 - 11:00
Lunch break
11:00 - 13:00
Keynote Lecture II


"AE monitoring of microdamage in materials, devices and tissues"
Prof. Shuichi Wakayama (Tokyo Metropolitan University)

13:00 - 13:40
Energy System
14:00 - 15:00
Materials III (Composite and Polymer)
15:20 - 16:40
Banquet

18:00 -

---

Registration (Day 3)
November 2,
09:00 - 16:00
Structures
09:40 - 11:00
Material IV (Processing)
13:00 - 14:00
Material V (Metal)
14:20 - 15:40
Diagnostics
16:00 - 17:00
Closing Address
17:00 - 17:10
Message



Takuma Matsuo


Chair of the steering committee
Meiji University




Kaita Ito


Vice-chair of the steering committee
National Institute for Materials Science

Welcome to the 26th IAES (International Acoustic Emission Symposium) held in the Kawasaki City, JAPAN. It is our honor to be the chair and vice-chair of the steering committee of this historic symposium. IAES has been held every two years since 1972 in Japan. The symposiums are organized by the Japanese Society for Non-Destructive Inspection (JSNDI). The topics discussed at IAES cover a wide range of applications and industries. We, the members of organizing committee welcome all researchers and engineers related to Acoustic Emission and look forward to discussing with you.

Kawasaki City is located in the Tokyo Bay-area and is a very attractive city situated between two of Japan's leading cities, Tokyo and Yokohama. There are more than 200 research and development institutions in the city, attracting a large number of researchers and engineers. Additionally, the city has a well-developed transportation network and is easily accessible from overseas via Haneda International Airport. I hope you will enjoy not only the symposium but also the cultural atmosphere around the Tokyo Bay-area.

Fees
The conference fee of 50,000 JPY per participant.

After September 8, the conference fee will increase to 60,000 JPY per perticipant.
The conference fee is the same whether you attend on-site or online.

The student conference fee is 30,000 JPY per perticipant.
The banquet has not been decided yet. If it is held, 10,000 JPY will be charged on the day.
Banquet will be held. (Yay!)
Symposium participants are asked to attend.
A membership fee of 1,000 JPY will be charged on the day.
Please note that all participants submitting papers are required to pay the conference fees.
Committees
Organizing committee
| | |
| --- | --- |
| H. Moriya (Chair) | Tohoku University |
| H. Cho | Aoyama Gakuin University |
| M. Enoki | The University of Tokyo |
| K. Hashimoto | Hokkaido University |
| K. Ito | National institute for Materials Science (NIMS) |
| M. T. I. Khan | Saga University |
| M. Maeda | Chiyoda Corporation |
| T. Matsuo | Meiji University |
| Y. Mizutani | Tokyo Institute of Technology |
| H. Nakamura | IHI Inspection & Instrumentation Co., Ltd. |
| S. Nishimoto | Soundness Evaluation Technology Lab. Co., Ltd. |
| S. Nishinoiri | Central Research Institute of Electric Power Industry |
| K. Ohno | Tokyo Metropolitan University |
| N. Okude | Tokai Technology Center |
| T. Sakai | Saitama University |
| K. Sato | Tokyo University of Agriculture and Technology |
| T. Shiotani | Kyoto University |
| T. Shiraiwa | The University of Tokyo |
| M. Shiwa | Happy Science University |
| T. Suzuki | Niigata University |
| S. Wakayama | Tokyo Metropolitan University |
| T. Watanabe | The University of Tokushima |
| I. Yamamoto | Fuji Ceramics Corporation |
| T. Yasuda | National Institute of Technology, Anan College |
| H. Yuki | The University of Electro-Communications |
Steering committee
| | |
| --- | --- |
| T. Matsuo (Chair) | Meiji University |
| K. Ito (Vice-chair) | National institute for Materials Science (NIMS) |
| Y. Mizutani | Tokyo Institute of Technology |
| K. Ohno | Tokyo Metropolitan University |
| H. Yuki | The University of Electro-Communications |
International advisory board
| | |
| --- | --- |
| A. N. Anastasopoulos | Mistras Group Hellas A.B.E.E. |
| D. G. Aggelis | Vrije Universiteit Brussel, Belgium |
| I. J. Baran | Office of Technical Inspection, Cracow, Poland |
| A. J. Brunner | Retired Scientist, Zuerich, Switzerland |
| H. K. Chai | University of Edinburgh, Scotland |
| M. Y. Choi | Korea Research Institute of Standards and Science, Korea |
| A. Gallego | Universidad of Granada, Spain |
| N. Godin | INSA, France |
| V. Godinez | MISTRAS Holdings |
| T. Kek | University of Ljubljana, Slovenia |
| A. Kontsos | Drexel University, U.S.A. |
| D. Kosnik | CTL Group, U.S.A. |
| G. Lacidogna | Politecnico di Torino, Italy |
| G. Manthei | THM - University of Applied Sciences, Germany |
| K. Ono | University of California, Los Angeles, U.S.A. |
| D. Ozevin | University of Illinois Chicago, U.S.A. |
| R. Pullin | Cardiff University, U.K. |
| P. L. Pahalavan | Delft University of Technology, The Netherlands |
| G. Qi | The University of Memphis, U.S.A. |
| C. R. Rios-Soberanis | Scientific Research Center of Yucatan, Mexico |
| M. Sause | University of Augsburg, Germany |
| H. Vallen | Vallen Systeme, Germany |
| E. Verstynge | KU Leuven, Belgium |
| D. Yoon | Korea Research Institute of Standards and Science, Korea |
Links
Contacts
Chair of the steering committee: Takuma Matsuo (iaes26[@]nde.jp)
Vice-chair of the steering committee: Kaita Ito (iaes26[@]nde.jp)
Conference secretariat: Shuhei Yasoshima (yasoshima[@]jsndi.or.jp)
---